Tajín Chipotle BBQ Sauce
3 ancho chiles (11⁄2 ounces), seeded
2 small Chipotle Peppers in Adobo (or use 1 for less heat)
1 (6 ounce) can tomato paste
3/4 cup + 1 Tablespoon packed dark brown sugar
1/3 cup Low-Sodium Chicken Stock
2 Tablespoons Tajín Clásico
1 1/2 tablespoons Worcestershire sauce
1 1/4 teaspoon Garlic powder
1 1/4 teaspoon Onion powder
Kosher salt, to taste
Chicken Thighs
2 1/2 lbs Bone-In, Skin-On Chicken Thighs
2 tablespoons Vegetable Oil
Kosher Salt
Black Pepper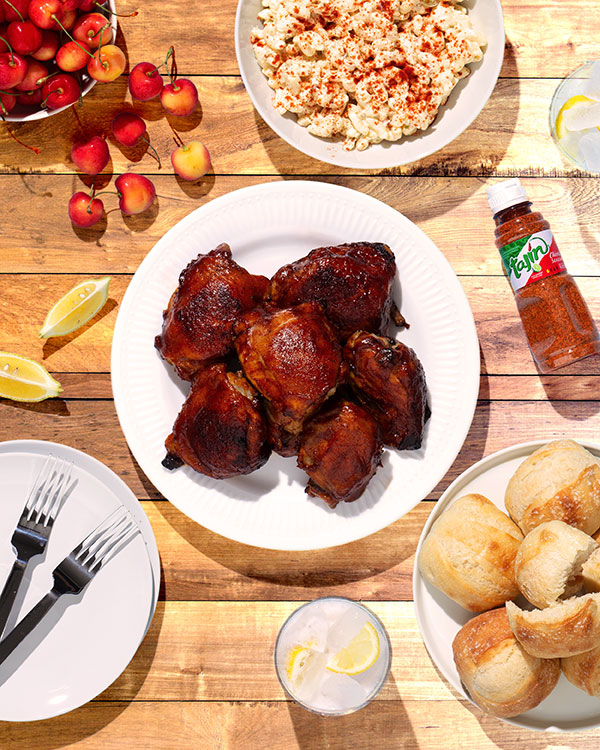 Make the Tajín Chipotle BBQ Sauce:
Bring 2 2⁄3 cups of water to a boil. Remove from heat and add the ancho chiles. Set aside for 20 minutes so chiles soften.
Mix ancho chiles in the soaking liquid with the chipotle in a blender on high speed for 30 seconds. Once the chile mixture is smooth pour the mixture through a fine-mesh sieve back into the saucepan pressing on any solids left to make sure you get out as much flavor as possible.
Whisk in Tajín Clásico and the rest of the sauce ingredients and bring to a simmer over medium-low heat. Cook, stirring occasionally, for 30 minutes. Adjust the salt to taste.
Let the mixture come to room temperature and store in a sealed container. Use right away or store in the fridge for up to 2 weeks—the flavors develop a little more if made a day ahead.
Reserve 1 cup of the Tajín Chipotle BBQ sauce to baste the thighs.
Grill the Chicken Thighs:
Toss the chicken thighs in vegetable oil, add a pinch of kosher salt, black pepper and toss again.
Preheat grill to 400 degrees, then place the thighs on the grill skin side up. Cook for 5 minutes, then flip and cook for – 5 more minutes. Brush thighs generously with the BBQ sauce. Let cook for 3 minutes, then flip. Repeat 1-2 more times, and cook until the internal temperature reaches 165ºF. Serve with the remaining BBQ sauce.