3 pounds pork country-style ribs, boneless
1 teaspoon ground black pepper
2 cups chicken broth
3 tablespoons brown sugar
3 medium jalapeno chili peppers, halved lengthwise
2 teaspoons yellow mustard
8 ounces tomatoes, canned, drained
1 tablespoon kosher salt
3 tablespoons canola oil
1/2 cup apple cider vinegar
1 teaspoon ground cumin
5 cloves garlic, minced or pressed
1 large onion, coarsely chopped
1 teaspoon dried oregano
Sauce Ingredientes
2 cups reserved cooking broth
2 tablespoons cornstarch
Additional water, if needed to cover pork
4 tablespoons water
Salsa Ingredients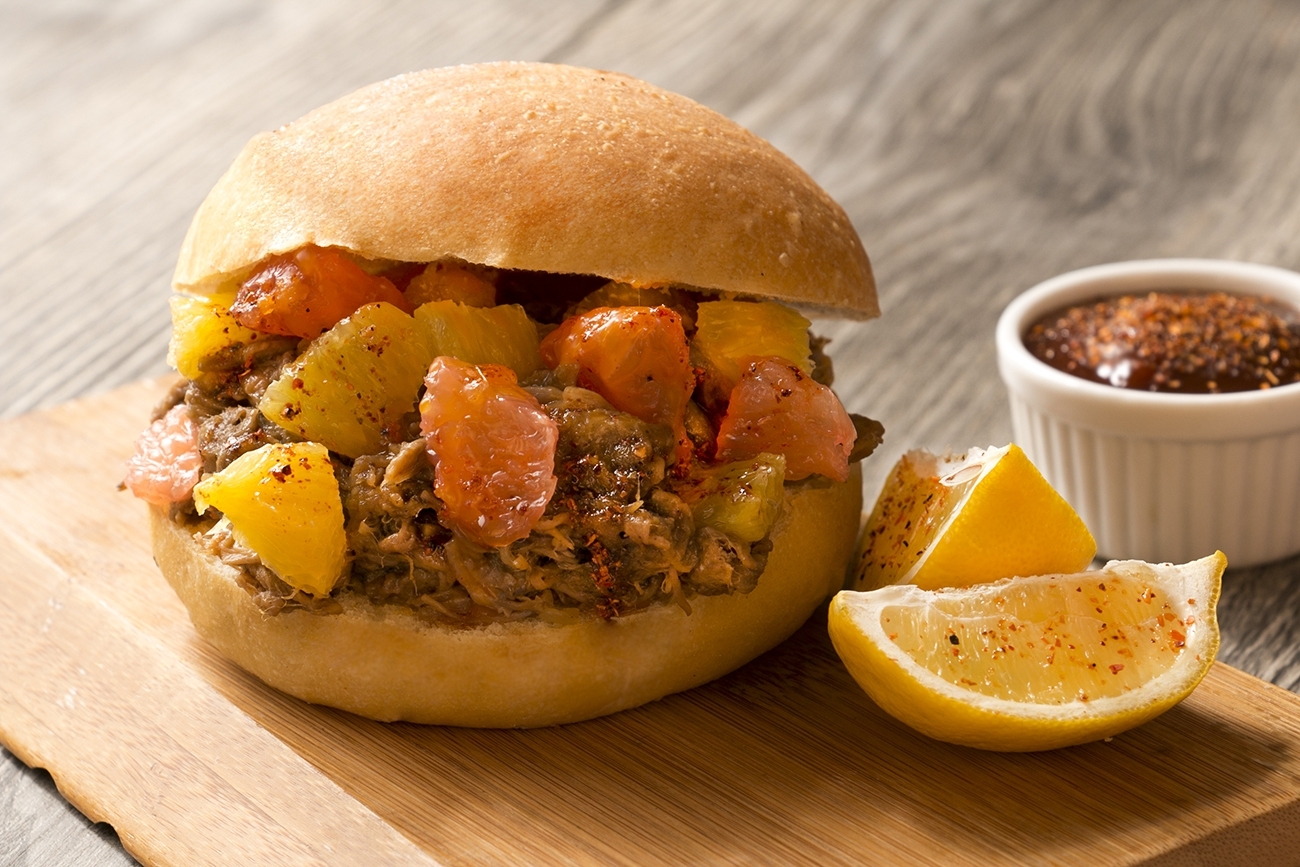 Combine salt and pepper then sprinkle onto ribs.
Heat oil in a large skillet. Cook ribs until browned on each side.
Transfer to a slow cooker or roasting pan with a lid.
Deglaze skillet with broth.
Add broth, vinegar, jalapenos, onion, tomatoes, sugar and spices to the pork. Add water if needed to cover pork.
Cover and cook until pork is very tender. (On high for about 2 hours in the slow cooker or in the roasting pan, covered at 350F for about two hours.)
Strain pork mixture, reserving the cooking broth.
Shred pork into small pieces using two forks. Keep the onions, tomatoes and jalapenos mixed with the shredded pork.
Sauce Preparation
Combine cornstarch and water to make a slurry.
Pour 2 cups of reserved cooking broth into a sauce pan and bring to a boil. Whisk in cornstarch slurry. Return to a boil and stir until thickened. Use as much of the thickened broth to moisten the pulled pork as desired.
Taste and adjust seasoning with salt and pepper as needed.
Salsa Preparation
Peel, seed and coarsely chop the oranges and grapefruit.
Whisk together honey, vinegar, 2 tablespoons / 30 ml of the citrus juices, and Tajín.
Add fruit pieces.
To Serve
Place a 1/2 cup of the pork on a hamburger bun and top with salsa.
Optional: Replace the hamburger bun with a flour tortilla or your favorite sandwich roll (ciabatta, Kaiser, Submarine or Hoagie).