2 cups / .5 liter fresh pineapple, chopped small
1 cup / .25 liter mango, fresh or frozen, chopped small
1 cup / .25 liter apple, peeled, seeded and chopped small
3/4 cup / 180 ml brown sugar
1/2 cup / 120 ml orange juice
1 each cinnamon stick
2 tablespoons / 30 ml fresh lemon juice
2 tablespoons / 30 ml Tajín Clásico
2 teaspoons / 10 ml cornstarch
2 tablespoons / 30 ml water
4 each pie crusts, use prepared refrigerated crusts (9-inch) or make your own
Topping Ingredients
1/4 cup powdered sugar
1 tablespoon Tajín Clásico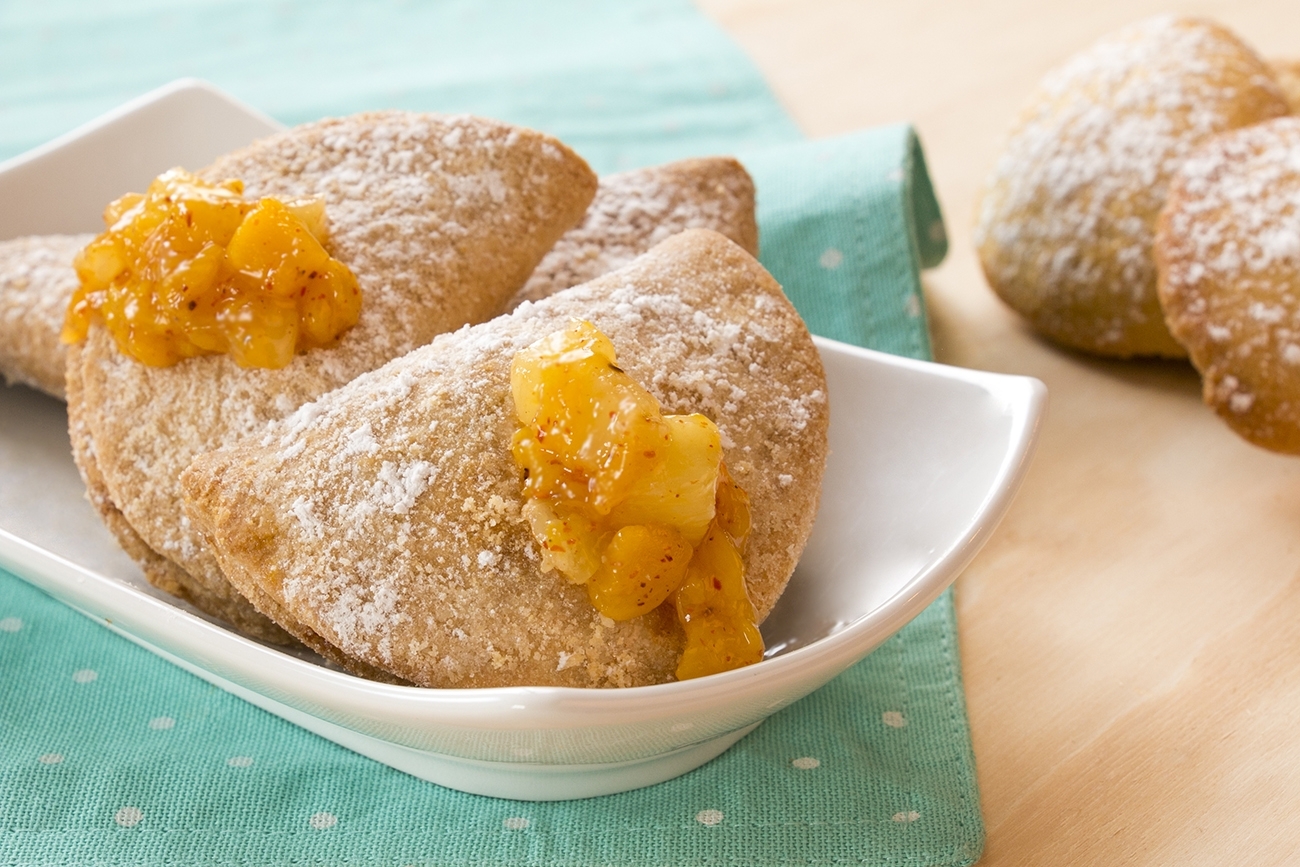 Combine all ingredients EXCEPT Tajín, cornstarch and water.
Cook over low heat stirring frequently until reduced to 1 1/2 cups / .33 liter.
Make a slurry of the cornstarch and water and stir into filling. Bring to a boil and cook until thickened (1 – 2 minutes).
Remove filling from heat, remove cinnamon stick and cool to room temperature.
Stir in Tajín.
Roll out prepared pie crusts and cut eight 3-inch circles from each. If you wish you can roll out the scraps and cut more circles until you don't have enough dough to make any more.
Place 1 teaspoon / 5 ml of filling on each circle. Fold in half and seal the edges by pressing down with a fork all the way along the edges.

Hint:

To help keep the filling inside the dough follow this technique. Imagine a line drawn across the center of each circle and place your filling with 2/3s of it above the line.
Then fold from the top down. This will help keep the filling inside the dough. Start pressing the two edges from the center out to the fold in one direction and then the other.
Preheat oven to 350F / 175 C.
Bake until crust is golden (about 20 – 25 minutes).
Combine powdered sugar and Tajín.
Dust turnovers with powdered sugar and Tajín mixture immediately upon removing from the oven.
Store in a single layer in an airtight container at room temperature.
Optional: You can make the turnovers any size you want. Just cut larger circles from the pie crust and adjust the amount of filling appropriately. Or try one of these in place of the pie crust:
Puff pastry sheets (from the freezer section of the grocery store) thawed, cut into squares then folded into triangles. Run a finger dipped in water around the edge of the square before folding and then press to seal.
Refrigerator biscuits rolled out and folded over and press with a fork to seal.
Phyllo pastry sheets (from the freezer section of the grocery store) – butter and stack 2 or three sheets then cut into strips, place a dollop of filling on each strip and then fold into a triangle (like folding a flag) making sure the corners are sealed as you fold.
Nutrition Analysis Per Serving:
133 Calories
6g Fat (41.8% calories from fat)
1g Protein
18g Carbohydrate
1g Dietary Fiber
0mg Cholesterol
404mg Sodium